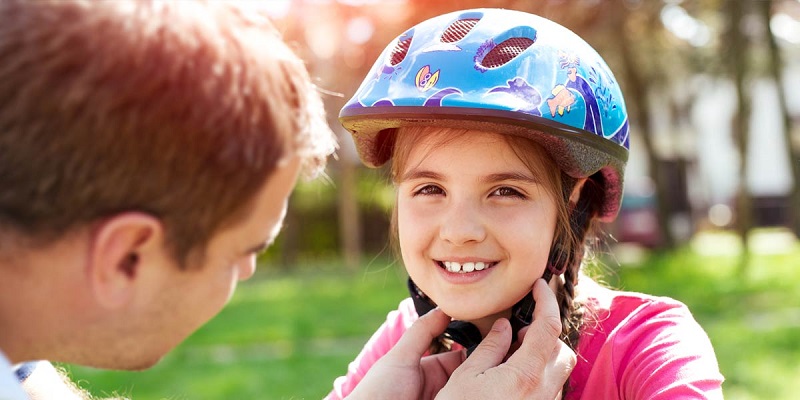 A common misconception among parents is that wearing a bicycle helmet will protect their child from serious head injuries. We all see kids motoring along the sidewalk or street on bicycles, skateboards, scooters, etc., many of whom are dutifully wearing the helmets their mothers bought for them.
While these helmets can certainly protect against a penetrating impact to the skull which might result in a fracture (for example), they do not protect your kids from common head injuries that may cause long-term problems. According to a 2013 report on youth sports-related concussions by the Institute of Medicine and the National Research Council, "there is limited evidence that current helmet designs reduce the risk of sports-related concussions" — minor traumatic head injuries that have been tied, at least in adults, to long-term neurological problems including depression, chronic traumatic encephalopathy (a neurodegenerative disease) and chronic cognitive impairment.
It really should not be surprising that children bicycle helmets don't protect against concussions. Football helmets in the National Football league – the best engineered helmets available – fail to protect elite athletes from concussions and micro-concussions. A young child riding a bike or a motorized skateboard at 10 miles per hour is capable of striking his head on a sidewalk with as much or even more force as a professional football player tackling another.
The point is that parents need to re-evaluate their thinking, particularly when they allow their child to operate a motorized toy such as a scooter or a skateboard, capable of speeds upwards of 10 miles per hour. While requiring your child to wear a helmet may help in some instances, it does not adequately protect them against concussions which can be particularly damaging to children whose brains are still developing.
With over 50 years of collective service to the South Florida community, the Fort Lauderdale, Florida, personal injury lawyers at The Law Firm have helped thousands of clients to obtain money compensation for their personal injury and wrongful death claims.
All of the firm's partners have received the prestigious "AV" rating from Martindale-Hubbell Law Directory, which is a recognition by their peers in the legal community that their practice meets the highest professional and ethical standards.